Vertisis V-Kit; Designed to Help Naturopathic Practices Outperform
---
How is Vertisis Custom Pharmacy different than other compounding pharmacies? Having been founded by a team of integrative and naturopathic physicians and pharmacists, we established an entirely new concept for compounding pharmacies, built for the future of personalized medicine. Vertisis Custom Pharmacy's mission is to help improve patient outcomes by assisting medical practices with the best and latest in integrative and naturopathic IV therapies and guidance via:
Helping integrative practices stay compliant with new FDA guidelines
Keeping both personalization and customization as top priority for your patients
Improving delivery times and reducing out of stock issues
Improving innovative formulations
Increasing the ease for integrative physicians to perform IV therapy in their practice
Reduce inventory cost and time
Vertisis has created a streamlined logistics system that combines all the elements necessary to provide efficient, custom IV therapies and compounds for your patients. We accomplish this system in a simple and straightforward custom prescription called the Vertisis V-kit; The Vertisis customizable prescription. Each kit is compounded by a Vertisis pharmacist based on the physician's patient-specific prescription. The V-kit provides everything necessary to prepare and deliver IV or injectable prescriptions safely and easily. The V-kit also includes important information specific to the kit's medications such as an administration guide*, pre-calculated osmolarity* and so much more. Medications included in a Vertisis V-kit and completely customizable, we encourage you to prescribe exactly what your patients need and we will supply you with a kit that meets your specifications.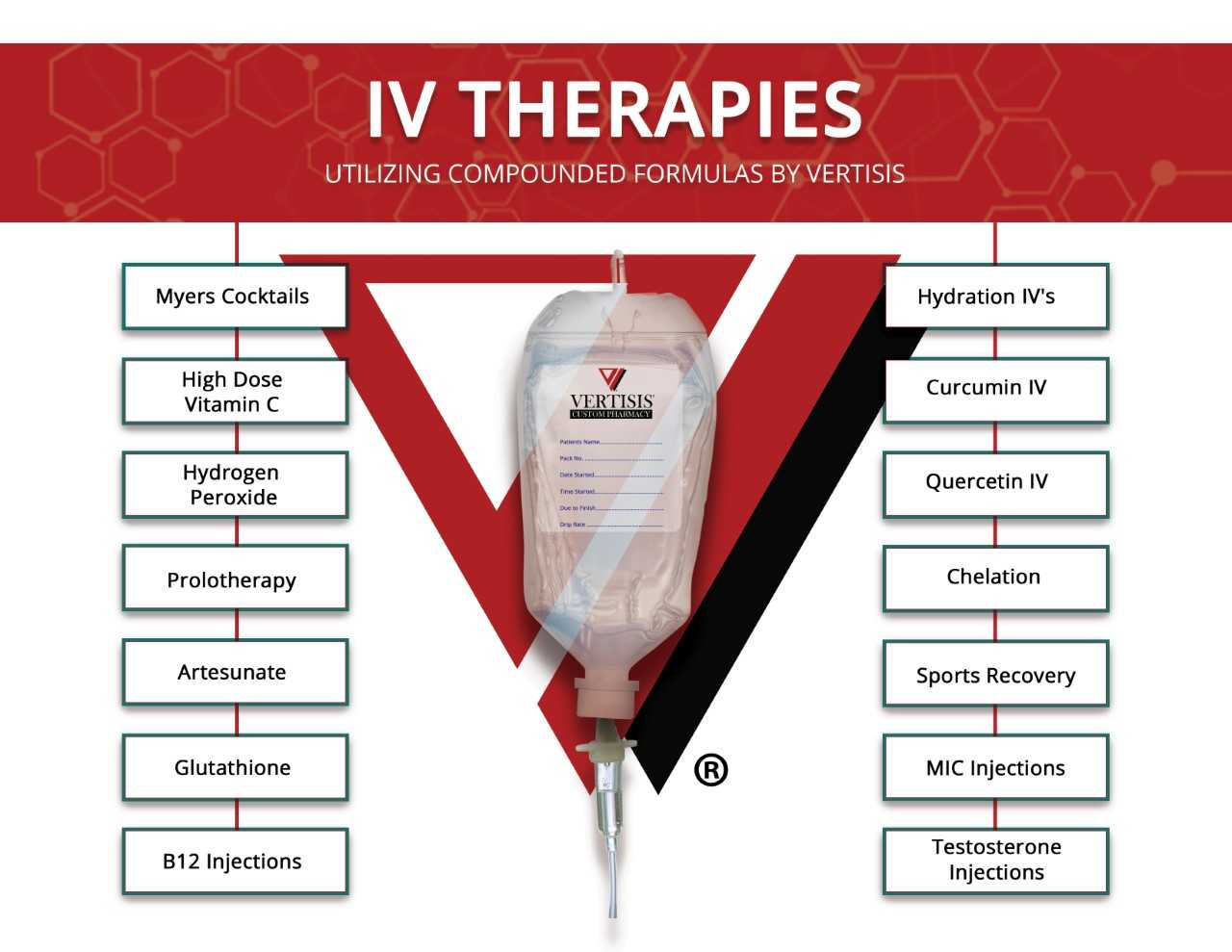 Here is what comes with your prescription within every V-Kit:

24-Gauge IV Peripheral Catheter
IV Tubing with 0.2 Micron Inline Filter
7-inch extension set with valve
10 Alcohol wipes
2 – 10ml 0.9% Sodium Chloride Flush Syringes
Full IV Start Kit
All needles and syringes needed for drawing medication
Aseptic Technique Guide*
Administration Guide*
Pre-calculated Osmolarity *
Adverse Reactions Standard Operating Procedures*

* Only available on commonly prescribed formulations
Designed for Naturopathic and Integrative Doctors
The Vertisis V-kit is specifically designed for doctors that utilize IV or injectable care for their patients. The goal of the V-kit is to streamline the process of creating custom IV bags by suppling all medications necessary to administer patient specific IV therapy in one kit without the need of physicians maintaining costly inventories of medical supplies. The process of building a V-kit begins on the Vertisis website by utilizing a user-friendly prescription system that assists with the process of combining medications and supplies into a custom kit designed for your patient's needs. Vertisis also offers V-kits based off commonly prescribed formulations. These formulations have been time-tested over 20 years of integrative medical practice and are assured to be of the highest quality. You can rest assured that every V-kit complies with federal guidance and stays up to date with new and everchanging legal guidelines. If you are unfamiliar with the recent federal changes refer to the 3-2 rule to learn more about the new FDA guidance for medical practices.
The Vertisis V-kit contains everything you need to deliver intravenous therapy while eliminating the costs associated with maintaining an inventory. Every V-kit includes 0.2 micron inline filters for redundancy and patient safety. Each kit also includes calculated osmolality guides with step-by-step instructions for in-office preparation and infusion. These instructions along with prepared titration schedules give you and your staff advantage to providing these therapies following industry best practices. A Standard Operating Procedures guide is included in the rare event that an adverse reaction to the treatment occurs within the office. Keeping patient safety as your most important practice.
Additionally, Vertisis Custom Pharmacy is teaming up with educational societies to help provide training to naturopathic physicians to continue to grow their knowledge and receive training for the everchanging world of integrative and naturopathic medicine. Remember, patients today are seeking safer, gentler options to personalize their healthcare and improve their quality of life. We are honored to be your partner in helping to transform the lives of your patients. If have any question, please don't hesitate to contact us.
Disclaimer: Depending on whether you are ordering an IV push verses an IV kit, they may contain different supplies. Supplies are also determined by availability. Calculated osmolarity guides are only available on commonly prescribed formulations. Titration schedules are only available on specific kits.