IV Therapy Compounding Regulations for Integrative Physicians
---
Our goal at Vertisis Custom Pharmacy is not only to supply physicians with the highest-quality integrative medications and natural IV compounds, but to be able to provide information regarding the everchanging landscape of regulations regarding physicians and their practices. Vertisis wants to help you, the integrative and naturopathic physician understand IV compounding regulations for your practice. This presentation was created to help physicians understand the ever-changing compounding laws and what steps should be taken to increase compliance and help protect physician practices.
In order to understand where IV compounding law is heading in 2017, you first need to learn about pharmacy standards and guidelines. There are two basic classifications of compounding pharmacy in America: 503A and 503B. Here's a brief break down of the major differences:
503A Pharmacies

Need a prescription
Not allowed to compound commercially available drugs
Geared more for individuals and personalized medicine than groups of patients
More regulatory pressure
Overseen by the state board of pharmacy

503B Pharmacies

No prescription needed
Only compounds commercially available drugs
Mass produces medications
Strict and expensive regulations including cGMP
Registered with the FDA
Vertisis is a 503A compounding pharmacy, which means that we specialize in care on an individual level and customize all our medications specifically for each individual patient based on their physician's prescription. Our pharmacy was founded based on foresight of the coming needs for doctors who are currently mixing primarily IV medication in their offices now. As a physician, we want you to be aware that new and existing regulations are coming into greater enforcement in 2017 and the coming years.
Much of the new regulatory action was initiated back in 2012 with an outbreak of fungal meningitis which affected over 800 patients and resulted in 64 deaths. The outbreak originated with a custom compounding pharmacy in New England and this was the motivating event for a new bill to be passed in 2013 for a greater crackdown on compounding medication.
The way in which these regulations affects doctors lies in how the FDA had defined drug compounding. In the FDA Draft Guidance, "Insanitary Conditions in Compounding Pharmacies," the FDA specifically mentions "physician offices" as a target in compelling state boards of pharmacy to enforce the new standards being applied to pharmacies. That means if you are mixing drugs at all in your office, you might be subject to the new regulations. (Food & Drug Administration, 2016)
How New FDA Regulations May Affect Naturopathic and Integrative Physicians
Today, many integrative and naturopathic doctors are casually mixing Myer's cocktails, H2O2, MIC and amino therapies in their offices, but this practice is no longer in compliance with the law, even if the doctor or technicians are using a hood. Depending on what you are compounding, you may be required to have a full clean room to either USP797 or USP800 guidelines.

The FDA has put forward very strict guidelines for what medication can be mixed inside an office hood and Vertisis has coined the "3-2 Rule" to help physicians remember what they can and cannot do when mixing IV medication in their offices. Simply defined, the 3-2 Rule describes the category of "Low-Risk" compounding set by the FDA, the only kind of compounding allowed without a full clean room. The rule allows for sterile to sterile transfer of medication, such as retrieving medication from a sterile vile with a syringe and injecting it into a sterile IV bag. But to remain in the Low-Risk category, no more than 3 medications can be mixed for any treatment and no sterile container may be entered into – such as with a needle – more than 2 times, the 3-2 Rule.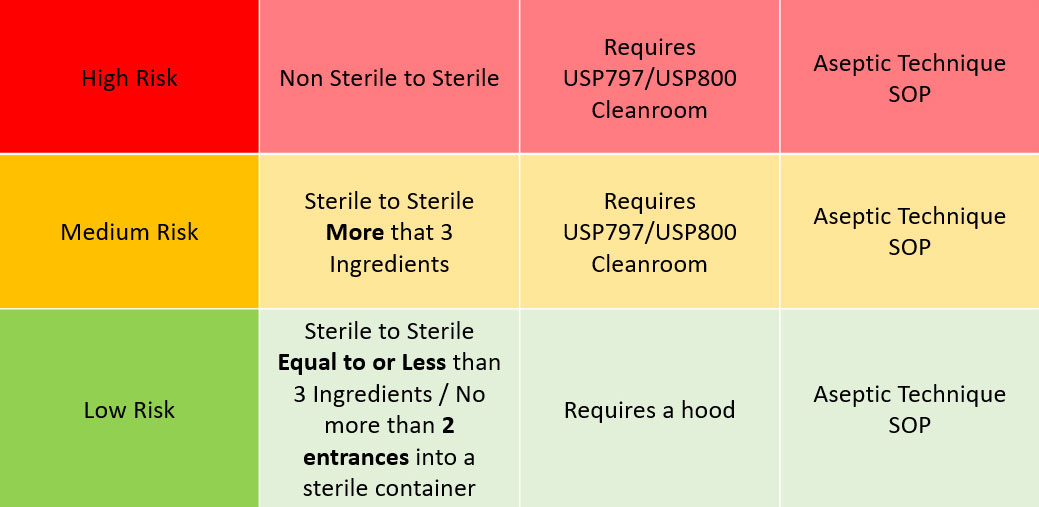 (United States Pharmacopeial Convention, 2008)
This standard precludes many therapies currently and widely used in integrative medicine, creating a massive inconvenience for many doctors who wish to be compliant with the law and avoid potentially disastrous liability. It is our goal at Vertisis Custom Pharmacy to partner with doctors to provide them with IV medication prepared in such a way as to allow them to both remain on the good side of the law and reduce their own liability in the process. To that end, Vertisis is offering doctors the option of using "V-kits" which contain all the components needed for Low-Risk compounding right in their office.
Why Naturopathic and Integrative Physicians are Switching to Vertisis V-kits
The V-kit will contain either an empty or pre-mixed IV bag and up to 3 vials of medication which themselves can be premixed with a single medication or several depending on the needs of the therapy you wish to prescribe to your patient. The kit will come with aseptic instructional guides and syringes and tools needed to mix the medication properly, including an IV cap which will allow you to inject all three vials with only a single entry into the sterile IV bag. The kit also comes with redundant safety features, such as a 0.2 micron inline filter, the same quality filter we use to transition non-sterile compounds into a sterile solution. Vertisis also keeps track of all lot numbers to make sure you are not exposed should an adverse event occur. By having a custom compounding pharmacy prepare the medication, we retain liability of the preparation process, removing more of the burden from the physician. Vertisis has hospital buying power to purchase in bulk and keep the costs of medication down, which only increases with the more doctors we partner with.
Lastly, because we understand that education is of vital importance in the field of medicine, Vertisis is partnering with their sister company, an educational resource designed specifically for doctors called "Unipathic Medicine." The courses available at Unipathic Medicine have been designed to educate doctors on various integrative treatments and therapies which have been verified through decades of use. Unipathic also offers advice to practicing doctors on fundamentals such as business management and advertising, crucial areas which are unfortunately overlooked in the course of standard medical education.
Vertisis is located in the Scottsdale-Phoenix area in Arizona. If you have any additional questions, feel free to call us at 1-888-285-5841.
Disclaimer: The information provided in this webinar is designed for physicians and licensed healthcare providers. While we intend this information to be correct, we cannot guarantee that this information is complete. Please check with your pharmacist regarding any questions related to specific medications and their usages, combinations or counter indications. Vertisis makes no claims, guarantees, or promises in regards to its medications or prescription V-kits uses, legal compliance, benefits, or safety. Please note all items are required to be prescribed by a physician. No items will be dispensed as in-office use or without a doctor's prescription. Please note as a 503a compounding pharmacy we do not compound any commercially available drugs or agents. Vertisis Custom Pharmacy provides general information related to the law designed to help physicians understand their own legal needs. This video does not provide legal advice and is not a law firm. None of our employees, pharmacists, or sales representatives are lawyers and they also do not provide legal advice. Although we go to great lengths to make sure our information is accurate and useful, we recommend you consult a lawyer if you want legal advice. If you have any legal questions, please consult your personal legal counsel. If you have any specific prescription questions, please consult your pharmacist. Please visit www.vertisis.com/disclaimer for full disclaimer.
---
References
[1]

Food & Drug Administration. (2016). Insanitary Conditions at Compounding Facilities. Silver Springs: United States Office of Compliance.

[2]

United States Pharmacopeial Convention. (2008). <797> Pharmaceutical Compounding - Sterile Preparations. Silver Springs: Food & Drug Administration.