Decrease your liability and be compliant with the new FDA compounding laws
---
The new FDA laws governing compounded medications can pose a risk to your practice, livelihood, licensure and patient care. Being familiar with these regulations is critical to your future! Many of us have attended lectures or conferences where other members of the community have discussed the topic but much has been missing with regards to the true liability to your practice. We all know that IV and injectable medicines are an essential part to a strong naturopathic and integrative medical practice. However, in practice, most doctors we speak with are always surprised to learn how little understanding they have of the new federal laws and how they could impact them. The answer we typically hear from doctors is, "All I need is a hood and I am fine," or "I don't think anything can happen to my small practice." Let's bring you up to speed and point out important legal details to help you properly protect yourself. Vertisis as a pharmacy is designed in a unique way to help naturopathic and integrative doctors overcome all these legal issues and make practicing personalized medicine safer, more comfortable and more cost effective in multiple ways.
"503B and 503A Pharmacies Protect Themselves, Not You!"
We will focus this article on the compounding legalities relevant to your medical practice. Many compounders protect themselves and their ability to sell across state lines throughout the US by investing in building GMP 503B pharmacies. These 503B pharmacies can mass-produce medication and sell it to your practice with no scripts and a quick phone call. 503A pharmacies, however, require prescriptions but work the system by filling bulk orders with just a couple of patient scripts and long lists of items. Let's review the liability of using these 503B and 503A pharmacies and how they pose a great risk to your medical practice in ways you may not have been exposed to before. Even though all these pharmacies have essentially protected themselves, the hidden liabilities lie in the details. When you begin to mix vials of medication that you ordered from the pharmacy on countertops or even under hoods, you're now compounding/manufacturing medication in your office. Depending on the ingredients and amounts you are compounding, you could be without the correct federal and legal standards of a registered USP 797 pharmacy. Many physicians perceive an ISO5 hood as the answer to these liabilities, unfortunately this is still not compliant. In the eyes of the FDA, you pose a grave safety risk to patients by increasing the risk of contamination of the medication when not utilizing a compounding pharmacy. This is why the FDA has directed guidance to medical boards and pharmacy boards across the US to initiate the regulation of medical practices. In addition, if you are not compliant, the FDA has a direct doorway into you and your medical practice because you are now manufacturing drugs and not simply practicing medicine with your license.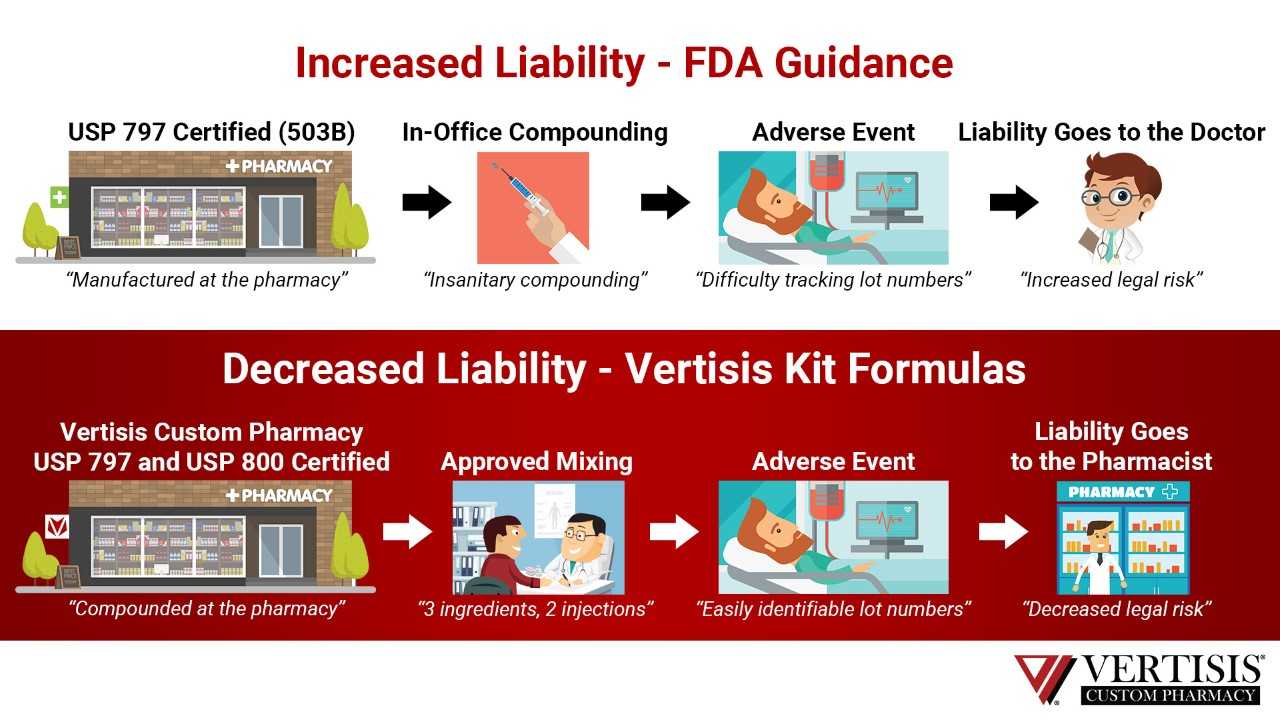 "I didn't know" or "Everyone else is doing it" does not provide a good legal defense
We agree it's unfair but some of these new FDA laws may have been put into place to slow down and target naturopathic and integrative practices. Regardless, any mistake or reaction that might arise from treatment you provide to the patient that you "manufactured/compounded" the drug for is completely your liability. As a doctor you are held responsible to follow all local and federal laws and "I didn't know" or "Everyone else is doing it" does not provide a good legal defense. In fact, after interviewing doctors who have had to deal with FDA raids and/or interrogations they all say no one comes to your aid, you will be alone in the matter. No organizations, not your local medical board, not your colleagues or even the university you graduated from can help. Even if you didn't do anything wrong, the cost of dealing with these agencies can bankrupt many practices small and large alike.
In addition, you're responsible as a physician to track every lot number for every compound/vial with every patient and every treatment. Tracking becomes necessary when an adverse reaction or the unfortunate lawsuit occurs. The tracking of these lot numbers is something we have seen fall through the gaps in many medical practices and is a potential area of liability. If an issue arises from any treatment you provided, those lot numbers must be organized. If you are "manufacturing/compounding" in-office, the compounding pharmacy you originally ordered the product from no longer has control over the sterility or stability of the product you are compounding. The liability can then more heavily rest on the doctor. The batches of each medication and ingredient in each bag given to the patient must link to the pharmacy directly and ultimately verify sterility and stability data for that set of products which make up the treatment(s) in question. Fortunately, Vertisis has automatically solved this problem with detailed internal logistics and a unique legal design within our operation tailored specifically for doctors like you.

Did you know that often smaller local compounding pharmacies do not test all their batches with third parties? They do this to save money and cut corners, and it is your responsibility to ask the pharmacy if your vials are tested, otherwise, your patient may not be receiving a safe, therapeutic or effective drug. Unfortunately, until a problem arises most medical practices are just not aware of the laws and liabilities and it becomes a sudden shock when something goes awry. Unfortunately your medical malpractice does not cover you for manufacturing drugs outside of federal guidelines because you are not a pharmacy. However, Vertisis has streamlined this process to make sure it is easy to create a custom script every time for every patient in your records.
"The Best Protection You Have with the FDA is 'The Practice of Medicine'"
It is important to know that as a doctor you are mainly protected from FDA issues because of something called, "the practice of medicine." When you don't have a custom prescription that directs the pharmacy to make a custom medication for each individual patient you can have potential issues if a problem arises. The script proves in your medical records that you don't manufacture/compound anything but instead order the medication from the pharmacy and simply administer it, in accordance with state and federal law. This prescription, along with the consent form that every patient signs, is the best protection you as a doctor have. Vertisis provides all this and more in a streamlined compounding process per your prescription and strengthens your practice no matter the size or number of patients you treat.
In addition, these older compounders have often inflated many of their prices to pay for their new 503B facilities. It's the same old medication but with prices potentially up to 1000% higher than before. Vertisis is already built to the highest standards and has solved these problems for you. In fact, before we ever built our modern facility our extensive legal team, medical malpractice attorneys, pharmacy attorneys and FDA attorneys were brought into every aspect of our operation and design to make sure we have the highest level of compliance at local and federal levels to include protection for physicians and medical practices. We at Vertisis have designed this system to protect medical practices and doctors to allow you to work freely and confidently; something that we know is unparalleled in the compounding pharmacy world. Furthermore, Vertisis has also partnered with Unipathic Medicine to provide an infrastructure to help educate and grow personalized medicine into the future so you can stay at the cutting-edge of integrative medical care.
"By using Vertisis as a doctor you can be assured you are protected and following the latest sterile-drug compounding practices and laws not found elsewhere"
The Vertisis system of compounding takes all aspects we just reviewed above into full account and makes sure that legal compliance is taken care of seamlessly for your practice every time with every patient and every prescription. Vertisis also stays up to date with all the latest compliance changes as they are released. We even send you instant updates and integrate them automatically into our system for you. By using Vertisis, as a doctor, you can be assured you are protected and are following the latest sterile-drug compounding regulations and laws. On that unfortunate day someone were to challenge you or your practice legally you will not be stressed or scared because you made the wise choice of using Vertisis as your compounding pharmacy partner. You will not be alone, left holding the bag. Until you have been tested legally it's hard to understand the issues that will unfold and how to be prepared proactively. You can be proactive by choosing Vertisis now, not when it's too late. Let Vertisis handle the changes in the laws for you so that you can focus on what matters most: your patients getting the best care possible. Most pharmacies are just not equipped with the infrastructure to handle the complexity of these matters. If you are new to IV and injectable therapies you can be confident that you are working with the best to make you compliant.

"Having great prices and streamlined liability protection is even better"
A lawsuit, litigation or investigation can be the one of the most damaging ordeals a doctor or medical practice can endure. It is especially painful if a law is broken accidentally or if you are out of compliance because you're were working with the wrong compounding pharmacy. Vertisis is here to help you navigate the twists and turns of the ever changing medical landscape and pharmaceutical laws. Let us know what else we can do to earn your business. We want to personally invite you to take a tour of our great, modern facility and enroll in our sponsored courses to help you grow your practice. We do all this while still maintaining competitive pricing. We understand that cost of products is important to you and your patients but having great prices and streamlined liability protection is even better. Give us a call, we're here to answer any of your questions about this article or custom pharmaceutical compounding for your practice. Ask us how Vertisis can help you protect your practice immediately and help you grow.
Vertisis Custom Pharmacy provides general information related to the law designed to help physicians understand their own legal needs. This website does not provide legal advice and is not a law firm. None of our employees, pharmacists, or sales representatives are lawyers and they also do not provide legal advice. Although we go to great lengths to make sure our information is accurate and useful, we recommend you consult a lawyer if you want legal advice.